Welcome to Our Dental Practice!
Daniel L. Ferraro, D.D.S.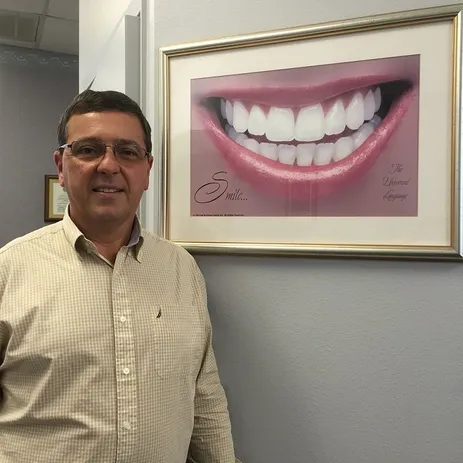 Proudly Serving the Grand Prairie/Arlington areas
Dental needs for over 30 years!!!
We pride ourselves on providing superior dental care, comfortably, conservatively in a relaxed environment, at a reasonable cost.
We are conveniently located in Emerald Square Shopping Center at the N.E. Corner of Hwy. 360 and Mayfield Rd. in Grand Prairie TX. We are one exit North of Interstate 20, on Hwy 360.
Dr. Ferraro is Certified by 3M, in the placement of Mini-Implants. These are small diameter, self-tapping, one piece, low cost implants, that can be used to support fixed or removable replacement teeth.
We provide all phases of general dentistry to include: Guaranteed beautiful veneers, metal free crowns & bridge, fillings, one appointment root canal therapy, extractions, dentures, bleaching.
We also provide routine placement and restoration of Conventional Implants inexpensively! Our Implant special price is $1100/implant, or $2100 which includes the abutment and the crown (sometimes a specialist is necessary if there is not enough available bone).
We offer free implant consultations and free second opinions if you simply call and ask for one. We will include x-rays if needed.
For our patients without dental insurance, just ask and we will give you a free consultation.